Dakota Johnson for the #InsideAndOut Campaign
Scans for Grazia Italia
Scan for Vanity Fair Italia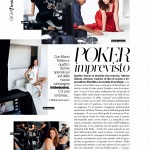 Transcript of the Vanity Fair Italia Interview:
What were your thoughts when they presented you the storyboard of the campaign?
I fully share the spirit of this operation, I like the fact that we talk of a woman's attention in its entirety, without limiting her appearance. I've always had a special relationship with what I wear under the dresses. I like to pick beautiful and thoughtful pieces and think about how my body is made, it makes me feel proud to be a woman. But it fascinates me that the hidden details remains for me only.
What do you mean?
Every day I make an effort to protect my privacy: It is very important to me that everything that concerns my private world is not shaken. Also for this reason, I felt at ease by working on this "story" that wants to convey something without making it explicit.
In your opinion, women carefully choose their underwear even though they know that maybe their partner does not care much about it?
I always thought it was a world to feel safer and to seduce ourselves first. If anyone who's near knows how to appreciate what we are wearing, then better yet.
Not putting everything on display leaves room for unpredictability. Do you enjoy it?
The unexpected experiences always curse me: They are a source of inspiration from which I learn new things.
Intimissimi Campaign Video


Mini-Interview with Intimissimi


Behind the Scenes